Havel-Spree-Colloquium-2018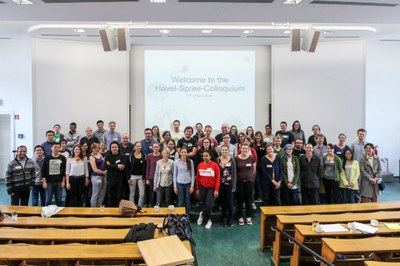 The Havel-Spree-Colloquium 2018 took place in our department. Over 50 PhD students from Berlin, Potsdam and the surrounding area met on the 13th April 2018 to discuss both scientific and practical problems and start to build professional networks within the next generation of scientists.
PhD students had the opportunity to presente their scientific work in short talks or used the poster session to introduce their PhD projects.
The keynote speaker Prof. Dr. Iris Finkemeier (WWU Münster) was invited by the organizing committee. She gave us insights into her research about novel functions of lysine deacetylases in Arabidopsis.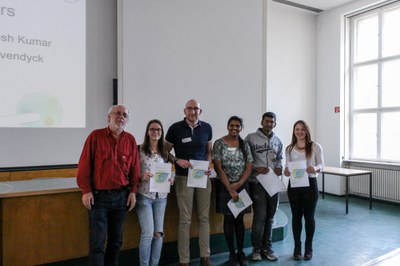 DCPS (Dahlem Centre of Plant Sciences) Prizes were awarded for best talks and posters. This has been made possible by a donation of Prof. Dr. Jürgen Schmitt, a former member of the DCPS
Best Presentation Prizes
First Prize (400 €):
Julia Gravendyck, PhD student at Freie Universität Berlin with a talk about:
New detailed Insights into the end-Triassic biotic Crisis from a palynofloral Perspective
Second Prize (200 €):
Venkatesh Kumar,

PhD student at Max Planck Institute of Molecular Plant Physiology.
   Investigation of the regulatory role of NBR1 for thermomemory in Arabidopsis   thaliana.
Best Poster Prizes
(100 € each):
Léa Faivre, PhD student at Freie Universität Berlin

Manuel Frank,

PhD student at Freie Universität Berlin

Kalyanikrishna,

PhD student at Freie Universität Berlin