Contact
Address:
Späthstraße 80/81
12437 Berlin
Phone:

(030) 2093-98365

(030) 2093-98362

Fax:

(030) 2093-98366

Email: 

arboretum[at]hu-berlin.de
» Eating, drinking and shopping »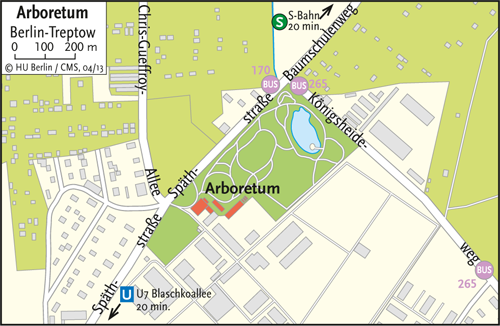 S-Bahn Baumschulenweg S8; S9; S45; S46; S47; S85 and 20 min. walk or bus 170 or 265

Underground Blaschkoallee U7 and 20 min. walk or bus 170
Bus 170 and 265 to Baumschulenstraße/Königsheideweg
Motorway 113 exit Späthstraße 
We., Th., Sa., Su., holidays: 10:00 to 18:00 (1 April - 31 October)
1,00 € (reduced 0,50 €)
guided tours: admission + 0,50 € per person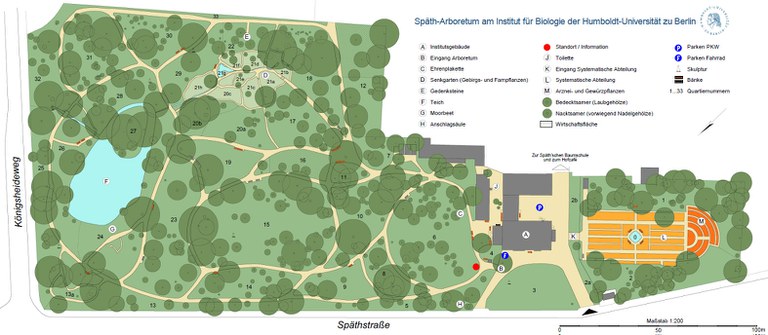 Map in high resolution [pdf] »
There is a café and a shop on the premises of the neighbouring nursery "Späth'sche Baumschulen".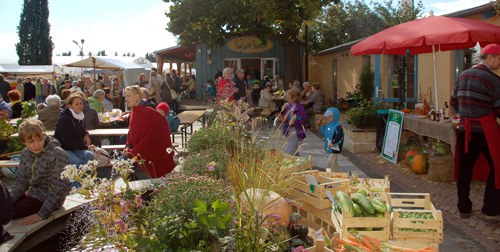 The Späth-Arboretum has been a scientific collection of the Humboldt-Universität zu Berlin since 1961. It serves research and teaching as well as environmental education and recreation.
The entire complex is an important infrastructure of the Humboldt University and at the same time of extraordinary garden-historical value. It is maintained by a few, very committed gardeners.
In order to support them in their work and thus preserve the beauty of the arboretum and ensure its function as a university collection, we ask all visitors to observe the following:
Entering the arboretum is at your own risk. No liability is assumed for any damage that may occur. We ask you to exercise the necessary caution, especially in areas with narrow and uneven paths and in contact with our plants.
Children up to the age of 10 years must be accompanied by an adult. Groups of pupils and children should be supervised by their supervisors and should stay together.
If you bring your dog with you, please keep him on a short leash. Please leave bicycles and sports equipment outside the arboretum.
Plants or parts of plants (including fruits and seeds) may not be damaged, torn off, taken along or brought into the arboretum without permission. Please also note that not all poisonous plants are labelled as such.
Labels and signs must not be changed or damaged.
Do not damage or contaminate the facilities and dispose of waste in the existing containers.
Please do not enter flower beds and small-scale plantings (e.g. in the rock garden and in the systematic section). Visitors are not allowed to enter the nursery sections.
If there is a storm warning, please leave the arboretum immediately.
Photography for private purposes is permitted, but for commercial photography a permit must be obtained in advance.